Most humorous Instagram pages you need to follow!
Having a sense of humour isn't very rare but being able to express it in the digital world and showcase it to the world is definitely a not-so-common talent. With all the stress in our lives, compounded by the pandemic now, a lot of us are seeking refuge online to stay connected with friends, to know what's going on around the world and definitely to look some light-hearted humour. Numerous Humorous Instagram pages and Twitter handles have helped us feel relaxed!
Imagination was given to man to compensate him for what he is not, a sense of humour to console him for what he is.

Sir Francis Bacon
Instagram has an abundance of entertaining content and a lot of that content is humorous. There are many pages that have memes, jokes, witty quotes and even funny videos for refreshing our stressed brain. We've curated a few of these here for you, have a look!
Here's our curated list of humorous Instagram pages based on our personal experience and has pages that we amusing and funny enough for you to follow for laughter therapy.
@sarcasm_only
This page is one of the most followed memes pages on Instagram with 15m+ followers and 14.6k posts until now. They produce highly relatable content with our daily life. The tagline reads "follow me before I'm hot and famous".
@sarcastic_us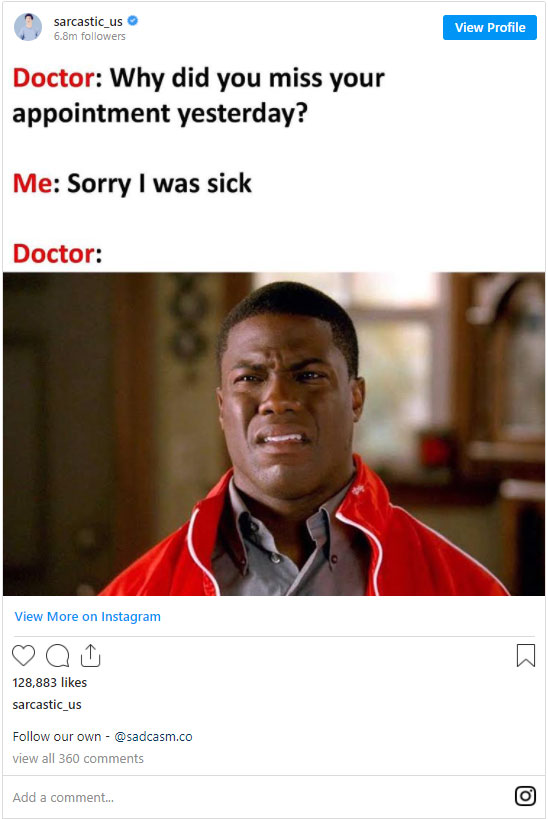 @sarcastic_us uses memes and gifs to tickle the funny bone. They have garnered 6.8m+ users so far and going strong.
@lmao
Do you know how to spell out lmao? I am sure you do if you are a true meme lover. You can find highly relevant memes, videos clips and sometimes GIFs on this page so that you can stay connected and engaged with their page.
@shockinghumor
This Instagram meme page delivers something unique and incredible humorous content. The name says it all @shockinghumor, you'll be shocked after going through the page. The post above is a perfect example of how they think on a very different tangent to create this sort of content.
@theindianmemes
Here's a desi one for you. You should follow this page for getting the Indian stuff which is exceptionally entertaining. @theindianmemes doesn't have as many followers as the other pages in this list but they are growing. You can follow them if you live to share enjoyable desi content to your friends and family.
@fuckjerry
@fuckjerry is another hilarious account with a great fan following of 15.7 million users and also followed by some famous celebs like Jelena Nora Hadid aka @gigihadid, Jacqueline Fernandez, Tara Sutaria and many more. Sometimes they produce offending memes or videos so you may follow if you don't mind something wacky coming up in your feed.
@funnymemes
'Your everyday meme dealer' is @funnymemes with its cheerful videos. If you want to see and share the best funny videos with your friends then this page is totally made for this purpose. For it's 6.9 million followers it produces 2-3 crazy, insane, funny and ludicrous videos daily.
@laughingcolours
'Laughing is the best medicine' @laughingcolours is developing this medicine for you. The admin asks the followers 'Hasne se darte ho kya' with swag. Its tagline says it all 'We love to make people laugh'. The page has a huge following of more than 1.9m users.
Humour is such a wonderful thing helping you realise what a fool you are but beautiful and funny that is at the same time.

Lynda Barry
You'll find that most popular pages keep their account private to prevent their account from getting hacked. You just need to send a request and they will let you in. I hope you found some of these pages worthy of following… stay connected and keep visiting Piccle for more fun-filled content.
You may also like
Most Popular and Funny Punjabi Phrases (with meaning)