Privacy policy clarification invites memes on Whatsapp!
The ongoing issue of WhatsApp sharing personal details of users with Facebook triggered the biggest online confusion in recent times. Facebook management wasn't ready for the mass outflux of users to Signal and Telegram, forcing them to issue a clarification and postpone the enforcement of the policy. This led to a flurry of memes on Whatsapp and its privacy policy clarification.
From Mark Zuckerberg to Whatsapp employees/headquarters, the memers had a field day making memes that voiced the latent concerns of millions of users.
Although WhatsApp clearly clarified that they do not intend to share private messages or user location information to Facebook it seems that their clarification wasn't enough for the netizens. Have a look at these memes hand-picked by our team!
Mark Zuckerberg knows everything!
The idea behind most of these memes on Whatsapp is that Mark Zuckerberg (symbolically representing Whatsapp and Facebook) knows more about you and your friends/family than yourself. An idea that is scary but also a humorous one when presented in form of a meme.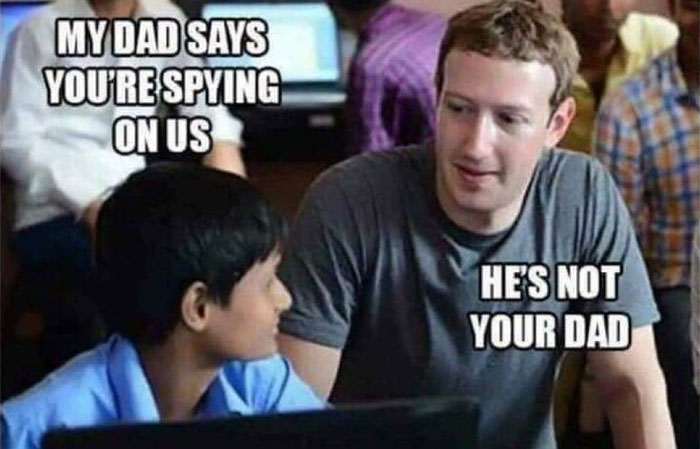 The best of the humour comes out of topics that hit you really hard. It isn't a surprise that the privacy concerns resulted in one of the most hilarious memes this time.
The message is clear that Whatsapp doesn't care who you are, if you use Whatsapp then your data is their property. Well, at least no one can blame them to be a racist, sexist or biased in manner. Good work there Zuck!
Honestly, it's wrong to say that Mark Zuckerberg reads your chats or your data. He can't do it for hundreds of millions of users even if he wishes to; he just has the power to do it, the rest is up to what he wishes to do with that power. But then I am reminded of what they say, power corrupts!

Now, moving beyond just Mr. Z.
Memes on WhatsApp Headquarters!
She : "Chalo good night bol do"
He : "pehle tum"
She : "nahi pehle tum"
He : "bola na pehle tum" pic.twitter.com/UCdfOIgxqL

— SwatKat💃 (@swatic12) January 12, 2021
Indian memers are ruthless but Mr. Z is quite thick-skinned. I believe that with this level of trolling any company would have taken back such a policy, but then he's the king of social media. Hence, just postponement.
When you start talking in Urdu so that whatsapp don't understand
Le whatsapp headquarters:#WhatsappPrivacy #Whatsapp_Headquarters pic.twitter.com/tYMTk0Tryt

— Miss_Malik (@Saleha_Malik20) January 12, 2021
When you keep texting A Person And He Is Ignoring You.

Le Whatsapp Headquarters:#WhatsappPrivacy pic.twitter.com/63w8dD6JOp

— HaمzI (@hamzi130) January 12, 2021
Memes on Whatsapp privacy policy!
#WhatsappPrivacy
Whatsaap : we have updated our privacy policy 😂 pic.twitter.com/7QgkUEN0FH

— A̶a̶t̶m̶n̶i̶r̶b̶h̶a̶r̶ शाफ फरीद (@ShaafFarid1) January 12, 2021
This one takes the cake for the level of Indianisation. Imagining Mark Zuckerberg saying "Bhai nahi hai?" is the next level of memes.
When your crush replies and the entire WhatsApp headquarter reads it!
Crush:I love you too
WhatsApp headquarters#WhatsappPrivacy pic.twitter.com/RaWMmJ0kTZ

— Sana (@Sana_here_1) January 12, 2021
Jokes apart, the concerns were serious and that's why people started moving to other messaging apps considered safer than Whatsapp. But then who can stop people from creating memes about user shift also. Have a look at some.
When you shift to other apps
Ouch! seems like @_memer_bros had some issues with Hike as well cos it wasn't Hike's day to be trolled. Coming up next are memes that affect the countless couples who are hopelessly in love with each other.
Nibba Nibbi memes on Whatsapp
#WhatsappPrivacy #WhatsAppPrivacyPolicy #WhatsApp #Zuckerberg #Mirzapur2#Mirzapuronprime #bollywood #mirzapurmeme

Nibba nibbi making plan of their after marriage life….

Mark zuckerberg: pic.twitter.com/SjKBFK1h7I

— MustafaAli (@call_me_masti) January 12, 2021
#WhatsappPrivacy
He: mela babu tho gya tha na
She: G babu mn tho gyi thi is lye reply ni krski.

Le whatsapp headquarters: pic.twitter.com/pBkMDjbrE1

— jawad (@JawadHamid_16) January 12, 2021
It is rare to have a memefest that doesn't feature Baburao memes. I am laughing so hard just thinking about the reaction of a non-Indian who gets exposed to the nibba nibbi talk.
Well, that's it for now folks! Let us know which one of these memes on Whatsapp privacy policy was your favorite. Also if you liked the article click on the like button and keep supporting us!
You might also like
Best memes of 2020 that made us laugh!