Best Hindi Comic Superheroes: Origin, powers, and weaknesses
Indian comics had their golden era in the 80s and 90s. Many iconic comic characters and superheroes were created during this period that became so popular that even today just the mention of their names brings waves of nostalgia to kids of the 90s. Hindi comic superheroes like Doga, Nagraj, Super commando Dhruva etc are still a favourites of those who spent their childhood reading these comics.
Diamond Comics, Raj Comics, Manoj Comics, Tulsi Comics, Tinkle, Amar Chitra Katha, Madhumuskan, Lotpot, and Champak were amongst the most popular comic book publishers in the 90s. Let's take you back to your old memories and re-introduce these old friends that we remember so fondly.
Go ahead and read in detail about the comic characters that made our childhood even more fun.
Doga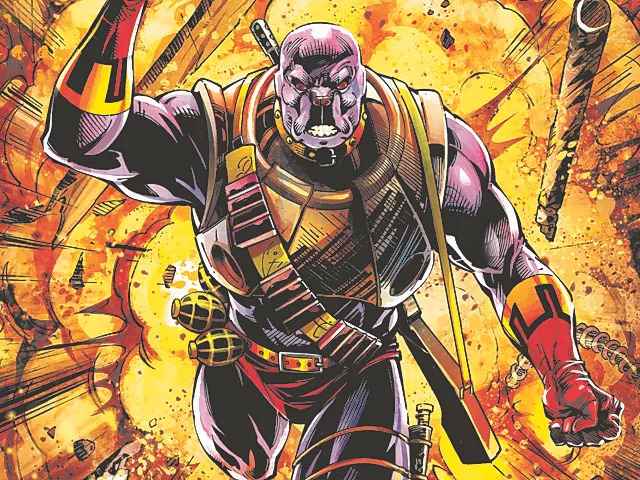 Introduced in Nov 1992, Doga is the first and the only antihero character in Raj Comics. Doga is among the three most popular comic book leading characters created by Raj Comics due to his huge fan following and one of the main reasons for this popularity is that, instead of being set in imaginary world of Sci-fi or demons or mythical beings, his comics are based on real-life like stories (some even inspired by true events) which made him more relatable to his readers.
Real Name: Suraj

Vital Stats: Height – 6'5 (195 cm), Weight – 94 kg (209 lbs)

Story Setting: Current age, Mumbai city.

Helped by: Inspector Cheetah, Dr. Bhanu, Khan brothers and Monica (lomdi) who's also Suraj's love interest (and the same girl Sonu he escaped with, although he's not aware of that or the fact that Monica is lomdi).

Origin: Suraj was an orphan who was found by Daku Halkan Singh, in a rubbish dump. Halkan Singh used him as protection against a police raid to save himself, but treated Suraj like a dog (also called him kutte). Suraj witnessed horrific events that would ultimately lead to his becoming an antihero.
With a stroke of luck, he escaped Halkan's den with the help of a girl Sonu. He then met Adrak Chacha and his brothers. He learned weightlifting in Adrak Chacha's gym (Lion Gym) and also received training in martial arts under Haldi Khan, boxing under Dhania Khan, marksmanship and fighter Pilot training under Kalimirchi Khan (the youngest brother). Suraj turned into Doga to take revenge of murder of his family by Killota's gang. He then killed Daku Halkan Singh and became a one-man army against organized crime in Mumbai.
Weaknesses: No known weaknesses till date.

Powers: Doga doesn't have any superpower other than that he can talk to and command dogs who help him gain information as he travels the sewers of Mumbai. Physically, he is the strongest superhero, if special powers, of other superheroes, aren't considered.
Extraordinary physical strength and endurance as a result of extremely rigorous workouts.
Expert in Martial Arts,
Ability to dodge bullets (Black pepper art – trained by Kalimirchi Khan)
An impeccable marksman, has a lot of weapons in his arsenal.
Can communicate with dogs and order them,
Has quick reflexes and a clever mind which enables him to tackle the threat from his enemies as well as to avoid being caught by the police.
Arch Enemies: Kaal Paheliya, Janine Chatterjee, Bihari Bhai, Bulldog, Raat Ki Rani, Big Bad Boss, Red button, Kaalnitiya, Bloodman, Sarkar, Yuva, Jhanavi Behl, Angry Jha, Abhinav Desor (adesor), Ghayabchand
Super Commando Dhruva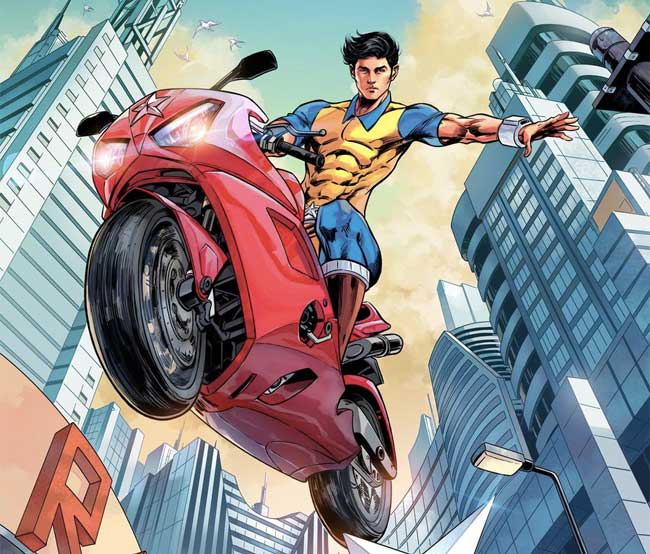 Like Best comic book Doga, Super commando Dhruva also doesn't have any superpowers. Dhruva as a character was created to be a humble, gentle, soft-spoken, mild-mannered and down-to-earth kind of personality without superpowers so that children can relate to and emulate him.
The other unique thing that set Super commando Dhruva apart from other superheroes was that he didn't wear a mask to hide his identity. He was just a neighborhood boy raised under discipline and trained well who was ready to do anything to keep his city safe… and of course, he had a good sense of humor.
Real Name: Dhruva Mehra
Vital Stats: Height – 6′ (183 cm), Weight – 78 kg (172 lbs)
Story Setting: Current age, Fictional city of Rajnagar.
Helped by: Natasha (daughter of Grand Master Robo and Dhruva's love interest), Chandika (unknown to Dhruva, she is his sister Shweta Mehra), Dhananjay (a descendant of Gods), Peter Massy, Karim Shah and Renu (cadets in Star Commando Force) and Nakshatra (a mirror image of Dhruva who was also born and brought up in a circus and has pretty much the same abilities that Dhruva has).
Origin: Dhruva was born to a couple who worked as trapeze artists in Jupiter Circus where he learned martial art, acrobatics, and stunts. After his parents were killed in a conspiracy, when he was merely 14 years of age, he was adopted by SP Rajan Mehra and raised as his own son. That day Dhruva vowed to fight against crime. He then went on to start Star Commando Force to protect the city and eliminate the evil from society.
As he spent his childhood in Jupiter Circus, he learned to communicate with animals, throwing knives, shooting, acrobatics, bike stunts and many other skills from performers at the circus.
Weaknesses: No known weaknesses to date. He is at a disadvantage against female foes as he doesn't hit a woman but we would count that as a virtue rather than a weakness.
Powers: Dhruva wasn't born with any superpowers but he trained and also acquired some cool powers as he grew up.
Ability to talk and control all animals (except Gorillas), a science and art that he learned from the ringmaster of Jupiter circus.
Expert in Martial Arts and acrobatics and free running.
The ability to breathe and speak inside water was gifted to him by his good friend Dhananjay, a resident of Swarna Nagri, who fit a chip inside Dhruva's neck to give him this power.
Exceptional command over bikes.
Great knife throwing and shooting skills,
Has great flexibility and super quick reflexes to even dodge bullets.
His biggest strengths are his detective skills, scientific knowledge and deductive and lateral thinking skill. He is undoubtedly the most intelligent and knowledgeable superhero in the Raj comics universe.

Arch Enemies: Grand Master Robo (a half-human, half-robot crime lord), Chandakaal ( the last remaining demon on earth), Mahamanav (a highly evolved human with psychic superpowers), Dhawaniraj (a mad scientist), Dr. Virus (a biologist), Bauna Waman (a midget who uses toys as his weapons) and Chumba (who possesses the power of magnetism)
Bankelal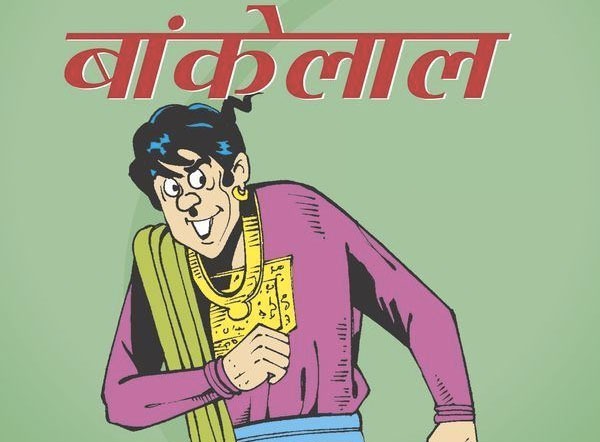 Bankelal, the most comical quasi-hero character of Indian comics was created in 1987 by Jitendra Bedi.
Story Setting: Ancient India, Fictional city of Vishalgarh
Helped by: Rani Swarnalata (wife of Maharaj Vikram Singh), Tilismdev and Bhokal.
Origin: Nanku and Gulabwati were farming couple who didn't have any children. Gulabwati was a devotee of Lord Shiva and she was offered a child as a blessing from the Lord. All was good for Bankelal, till the day Lord Shiva visited Bankelal's home with Goddess Parvati. Gulabwati offered them a glass of milk unaware that Bankelal had put a frog in the milk. When Lord Shiva discovered this he put a curse on Bankelal that if ever Bankelal tried to harm anybody, the person would be blessed with good results and Bankelal will also benefit a little from such mischief.
With the course of events, Bankelal joins the court of Kind Vikram Singh and after that, all the comics revolved around Bankelal using one or the other piece of information to kill king Vikram Singh and usurp the throne. Bankelal has a horse named Chetak which is also a very funny character.
The comic has a lot of sages, yogis, Devi-Devtas and Rakshas and very weird and comical names like Chonchu, Podki Painyaan, Po Po Pola, etc
Powers: Bankelal's character was created as a stupid person but with a devil's mind who's always looking to create one or the other problems for someone esp the King. His curse, by Lord Shiva, is the only power that keeps him (and the King) protected from all threats.

Arch Enemies: Bankelal didn't have any enemies per se, but he saw King Vikram Singh as his enemy and always tried to cause harm to him, eventually benefitting the King due to the curse. Other than this Senapati Markhap, Prabandh Mantri and other courtiers were jealous of Bankelal's popularity