Top 5 wicket keepers for your fantasy Cricket team
The wicketkeeper is one of the most crucial members of a cricket team. The keeper can't bowl but has the ability to take a wicket just like any bowler. Almost all wicketkeepers have worked on their batting skills and are one of the fastest scorers now. They can pick wickets purely with their skills by stumping or catching the batsmen behind the wicket. Pick one of these top 5 wicket keepers for your fantasy team.
With their keeping and batting skills, they can be game-changers. Read our analysis on which wicketkeeper to choose for your fantasy team for maximum points.
Wicketkeeper stats for IPL
Before we move to the selection of the wicketkeepers let's look at the wicketkeeping stats across all the seasons. The table below details the top 5 wicketkeepers as per total dismissals.
| | | | | |
| --- | --- | --- | --- | --- |
| Dismissals | Player | Matches | Innings | Period |
| 148 | MS Dhoni | 204 | 197 | 2008-2020 |
| 140 | Dinesh Karthik | 196 | 180 | 2008-2020 |
| 90 | Robin Uthappa | 189 | 114 | 2008-2020 |
| 82 | Parthiv Patel | 139 | 122 | 2008-2020 |
| 77 | Wriddhiman Saha | 124 | 104 | 2008-2020 |
The table below is for most dismissals in a series. As you can see, the data in both tables tell different stories.
| | | | | |
| --- | --- | --- | --- | --- |
| Dismissals | Player | Matches | Innings | Series |
| 24 | Rishabh Pant | 16 | 16 | 2019 |
| 22 | Quinton de Kock | 16 | 16 | 2020 |
| 19 | Kumar Sangakkara | 13 | 13 | 2011 |
| 19 | Quinton de Kock | 16 | 16 | 2019 |
| 18 | Dinesh Karthik | 16 | 15 | 2015 |
| 18 | Adam Gilchrist | 16 | 16 | 2009 |
| 18 | Dinesh Karthik | 16 | 16 | 2018 |
| 18 | Naman Ojha | 17 | 17 | 2016 |
Picking the Top Wicket-keepers
What we are going to look for is consistency, wicket-taking capability, good strike rate and current form. So here we go
#5 Quinton de Kock – Mumbai Indians
A good wicketkeeper and a fantastic opening batsman, Quinton de Kock is a points machine when it comes to fantasy cricket. Being an opener he gets to play for long and with his aggressive style, he can make points rain for you.
An aggressive southpaw opening the innings can gather a lot of runs during the power play and Quinton does exactly that. He has had the highest dismissals for the last 2 seasons and we don't expect any different in this season of IPL as well.
#4 Rishabh Pant – Delhi Capitals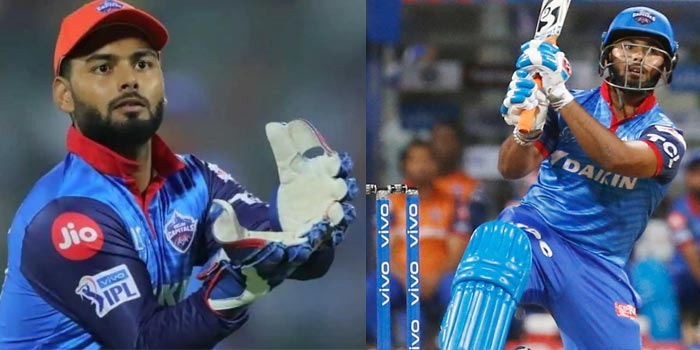 After MSD, if someone has actually risen with the same vigor, it is Rishabh Pant. He has got an excellent track record with the bat as well as gloves and he's riding high on superb form. Pant walks to the pitch at no. 4 and hence gets enough overs to score big.
He's got a career strike rate of 151 in IPL, besides, he's got a good number of stumpings in the past few seasons. He can be a gold mine for points on any fantasy cricket app.
#3 MS Dhoni – Chennai Super Kings
Mahi is an all-time favorite. He's lightning-fast and very light on his foot but most importantly he creates opportunities to stump batsmen by signaling the bowler or to catch them behind the wickets. Not to mention, his batting skills and ability to hold the wickets and finish the game.
He's a fabulous choice and a very safe bet as well. If you also choose to make MSD as your captain/vice-captain then you're going to collect some good points off him. His ability to hit sixes (he's ranked 3rd on most 6s in IPL) means a lot of bonus points.
#2 Rahul KL – Kings XI Punjab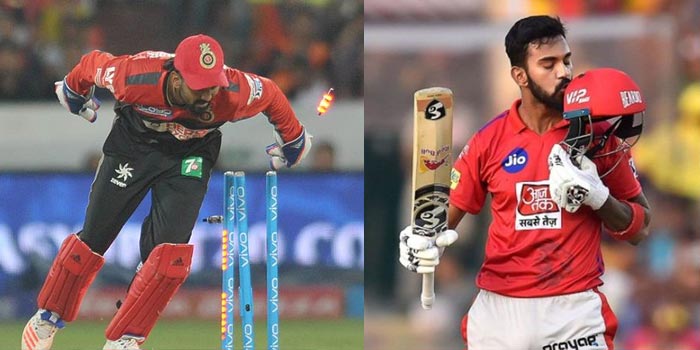 Rahul's teammates called him 'King Legend' for the KL in his name. Rahul is a consistent and dependable player. He had delivered well in the previous seasons. Just like Quinton de Kock, a keeper and a top-order batsman combination give that extra edge to Rahul when it comes to earning points for a fantasy cricket team. He has the highest average run rate per match amongst all other wicketkeepers.
He outshines every other wicket-keeper with the consistency of hitting 50s and 100s except for AB de Villiers. He has scored 2 centuries and 21 half-centuries. On any fantasy cricket app, this means a lot of additional points.
#1 AB de Villiers – Royal Challengers Bangalore
Handover the keeping gloves to, arguably, the most fierce batsman and you get Abraham Benjamin de Villiers. De Villiers bats at no.3 or no. 4 which gets him enough overs to play for long and score big. Due to his ability to hit almost any bowler and penchant to play innovative shots he is a points magnet when it comes to fantasy cricket.
He is the man with the highest number of half-centuries and centuries as a wicketkeeper. He's the wicketkeeper with the highest strike rate meaning he can gather a lot of runs whatever the situation be when he comes to bat.
He appears twice in the tally of Top 5 highest individual scores in IPL and that says a lot about him. He is number 2 in the tally of most 6s and you know what that can do to your points table for your fantasy cricket team.
So we are calling it. You should go for AB de Villiers whenever he's playing. Better still, make him the captain or vice-captain.
We hope you like these insights. Keep checking Piccle for more analysis to help you play better than others.
You may also like
Best fantasy cricket apps in India.