Best Instagram Tips and tricks
Instagram is one of the world's most popular social networks. There is a lot more to it than just posting photos and videos. You can use it to edit photos and save them without posting, decorating your profile with special fonts, scheduling photos and videos, and much more. Know the best Instagram tips and tricks, to master the social network.
1. Save a High-Resolution Photo Without Posting
All you need to do is simply follow these steps to save high-resolution photos edited from Instagram without posting them.
Open Instagram > tap your profile > tap the hamburger icon > go to Settings.
Now, tap Account > tap Original photos > turn on Save Original Photos.
Similarly, if you're using an Android, tap Account > tap Original Posts > turn on Save Original Posts.
Now that you have changed the settings, whatever you post will be saved locally on your device. However, the idea was to save them in high-resolution without having to post them online and now you can do that.
After enabling, put your phone on Airplane Mode.
Now open Instagram > hit + > add any photo. Go ahead and edit it.
2. Schedule Instagram Posts
Did you know that you can actually schedule when you would like to post the post? It's a great trick to fool people especially in times like covid, you could trick people into thinking that you have been traveling. You can simply post pictures every day or you can follow these steps:
For Business account:
Visit www.facebook.com/creatorstudio on your computer or on your phone.
On the website, click on the Instagram logo up top and connect your Instagram account with this page in order to go ahead.
Click on Create Post and click Instagram feed. Now, simply add the photo that you want to post later on. Add the caption, the location if you want to, then click on Schedule. Add the time and date, then hit Schedule.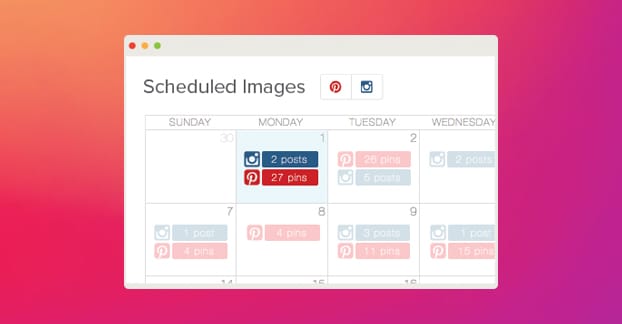 For normal account:
Download the Preview app on your iPhone or on android.
Link your Instagram account, click + and select Photos/Videos. After that choose the photo or video that you'd want to schedule.
You can then edit the photos. Once done, hit the thought bubble.
Then, you can add captions and hashtags, but the best thing is that you can Schedule posts. Set the date and time. Then, hit Done.
Your post will now be scheduled for the future.
3. Zoom In to Instagram Profile Pictures
Can't seem to get the guts to follow your crush on Insta? Want to see their profile picture but you can't because it's too small? Well, you can get access to a full-size Instagram Profile picture, all you need to do is follow these steps:
Visit www.instadp.com and then type the username of the person whose profile photo you want to view in full size.
Once you've found the profile you were looking for and it is loaded, simply hit Full Size and scroll down. You can then either screenshot it to make a meme or do whatever you wanna do.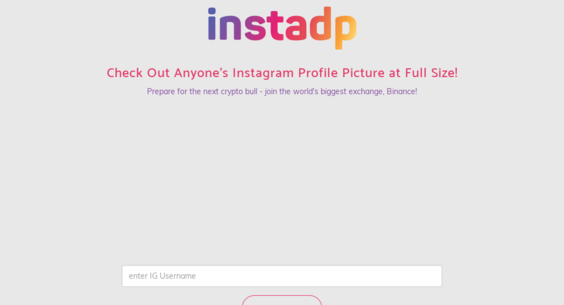 4. Post Without Giving Access to Camera, Photos or Mic
You can easily post photos, videos and even stories, and you can do all this without even having to give permission to the app. How would you do it? Well, simply from Instagram's mobile website. Just follow simple these steps:
Open Instagram on your browser.
Upload a photo, tap + at the bottom > tap Photo Library > choose your photo, edit > tap Next, write a caption, add your location and tag people. Then, hit Share.
For IG story, tap the camera icon up top > choose a photo > edit it and once you're done, tap Add to your story to go ahead.
To post a video in your story using an Android phone, open the video. Share > Instagram Stories. This can't be done in an iPhone.
To post a video to your Instagram feed using an Android phone, open the video > Share > Instagram Feed. From here on, edit your video > tap Next > tap Share.
For iPhone, go to Photos and choose the video. Open the Share Sheet and select Instagram. iPhone users only get the option to add a caption. Then, hit OK to share the post.
5. Hide Online Status and Read Receipts
The green-dot icon that you see next to people's profiles in DMs is whenever a user is online on Instagram. However, you can hide your online status on Instagram. Just by following these steps.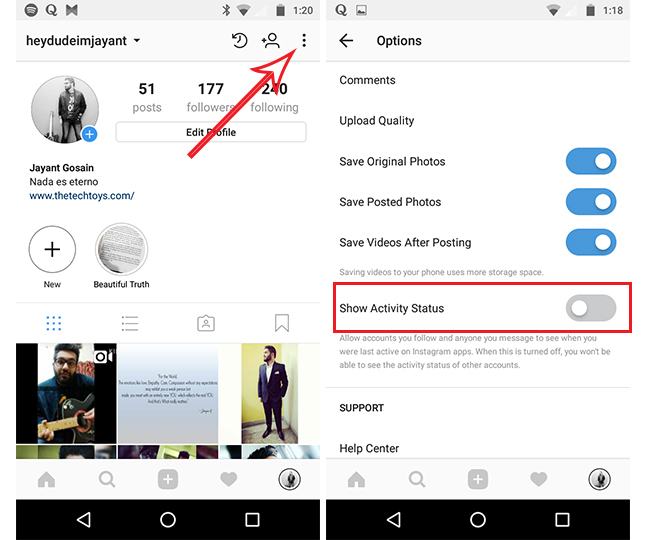 Open Instagram > go to Settings > Privacy > Activity Status > turn off Show Activity Status.
You can even hide read receipts. When you get a message, simply turn on airplane mode on your phone. You can then read the messages and the sender won't even know if you've seen them or not.
Now, before turning off airplane mode, make sure you log out from Instagram. To do that, tap your profile icon > tap the hamburger icon > go to Settings. Scroll down and select log out.
After logging out, you can turn off Airplane mode, and with your phone now connected to the Internet, Then login back to your account.
Then go to your Direct, you'll see an unread badge right next to the sender whose message you just read a few moments ago. You can basically ignore this now, as you have already read the message contents.
6. Turn On Two-Factor Authentication
Two-factor authentication is basically like adding an extra level of security to your account. With 2FA on, you will need a code to login from an unfamiliar device. To turn it on, follow these steps.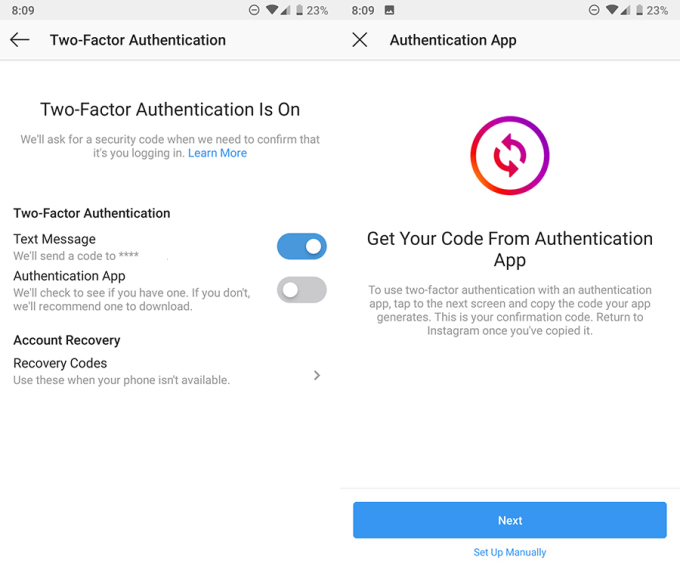 Open Instagram > go to Settings > Security > Two-Factor Authentication > Get Started.
Choose your security method. We recommend choosing the Authentication app method. For this, download an authenticator app such as Google Authenticator or Authy.
Back to Instagram > Enable Authentication app > tap Next. You'll be redirected to the Google Authenticator app. Tap Okay > tap Add Account.
Copy the code on the screen and paste it on Instagram. Hit Next and tap Done.
Finally, on the next page, you'll get some recovery codes. Read the instructions carefully on-screen and store them safely. That's it.
Which one of these tips did you already know? Do let us know in the comments below if you are aware of any other cool tips.
You may also like
Best Instagram filter apps you must have