Top 5 prediction apps for fantasy cricket fans
If you are a fantasy cricket lover then you know that it isn't that easy to make the right choices. Whether you play for fun or to win money, it is natural to feel pressure to choose the right team. The good news is that there's help available. There are many resources available to help you with different aspects of the fantasy cricket game. There are articles to guide you on how to choose the right team, right captain, wicket-keeper etc and you can find them here on Piccle. And then, there are these popular prediction apps for fantasy cricket lovers.
So let's get on with it and tell you the top 5 prediction apps that can make your life easy.
Cricket.com – Live Score, Match Predictions & News

Crictec media private limited owns and operates cricket.com and this is by far the most popular app for live scores and match predictions. Since it is associated with a strong brand name, it is a highly reliable app. The app already has more than 10M installs.
The app provides ball-by-ball commentary, fantasy tips, in-depth stats, player and team rankings and records. Most importantly, they have set up a Fantasy Research Centre (FRC) to provide tips to fantasy sports fans based on playing conditions, past performances, pitch analysis, team and player matchups and future projections. They also provide team win prediction, player score prediction and wicket prediction.
Dream Guru™ – Dream11 Prediction & Tips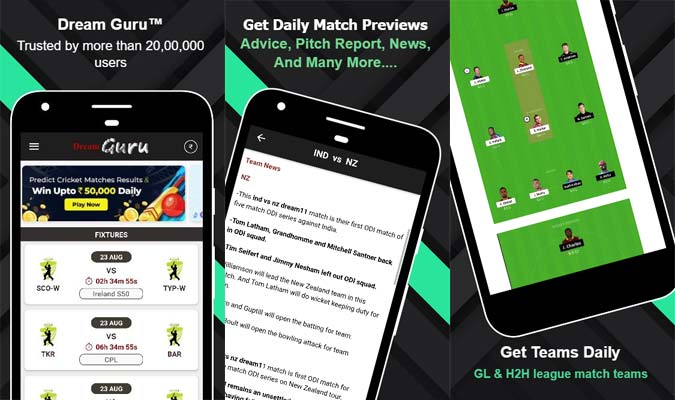 First of all, this app has nothing to do with Dream11 fantasy sports app, but it is still one of the most popular apps that provide predictions for fantasy sports. The app has been installed by more than 2M users already. You can use the tips for playing on Dream11, Halaplay, Playerzpot, Myteam11 and any other fantasy sports app.
The app provides Tips & Predictions, in-depth Cricket Fantasy Matches Preview, Probable 11, Safe 11 teams, cricket news, analysis and a lot more.
F11 – Fantasy Tips For Dream11, Cricket & Codes
Unlike other apps, F11 is focused on Dream11 only, however, that didn't stop them from getting more than 1.5M installs. Again, this app is not related to Dream11 and is operated by Independent Experienced Fantasy Players.
The app has a team Guide For Small Leagues & Grand Leagues and they provide match previews & injury news along with detailed team & player analysis. Two unique features of this app are Dream11 private league code contest and Dream11 Investment Calculator.
Prediction Guru™ – Live Score, Sports tip
Prediction Guru, a social prediction app, is a relatively new app but has grown very quickly. It has been installed more than 500k times and is growing fast. The app covers other sports like Football, Kabaddi and Hockey also but its main focus is on Cricket predictions.
The app provides advanced match reports with expert opinions and Pro tips for fantasy gamers. It helps you create your dream team and you can also earn points. You can play for free or buy premium access.
Fantasy King for Dream11 – Dream11 Prediction Tips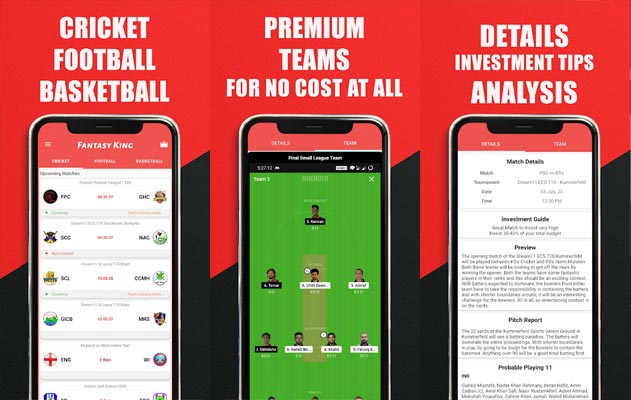 Last on the list but Fantasy King is no less than the other top 4 apps. This app has the highest user rating on the play store (4.5). With 500K+ installs, the app might seem small but it has a loyal fanbase and it is growing fast. Fantasy King also covers other sports like Soccer, Basketball, Baseball etc.
The helps you create customized teams that you will need to play on Ballebazi, MyFab11, Prime Captain, My11Circle, etc. They provide a team for head-to-head (H2H, Small League) teams, detailed match preview & analysis with major updates vital for the fantasy game. Their focus is on small fantasy leagues. They also cover pitch reports, match analysis, and CVC tips for you.
That's all for now folks! We hope you will find some good help from one of these apps. Good luck to all you fantasy sports lovers. We hope that this IPL season is good for you. If you liked our suggestions then do let us know in the comments.
You may also like
Fantasy cricket tips to play better than others